Oldham Coliseum Theatre History Assignment
History of the Coliseum
"In seeking to capture the key characteristics of the organisation, I would say the Coliseum is a new kind of people's theatre. It is truly 'owned' by its audiences, its artists and its participants. They are passionately proud of it – what it does for the people of Oldham and the reputation of the town. Most importantly, perhaps, the management are acutely aware of the responsibilities this gives them to deliver the very best work for all of their constituencies. They do not let them down."
Ian Tabbron, Senior Relationship Manager, Arts Council England
"A full house at Oldham Coliseum – a theatre that lives in the shadow of big neighbours – feels utterly different from one [at a larger venue], which gets much more attention, but cannot match the unbuttoned glee of a local audience at the Coliseum."
Paul Allen, The Guardian

The history of Oldham Coliseum Theatre has its roots in the Oldham of Victorian England, making it one of the oldest theatres in Britain still in operation today. The theatre is also widely considered as the true home of traditional pantomime.  The theatre produces a new festive production each year attracting audiences of over 35,000 from across the North West of England, as well as further afield.
The Coliseum dates back to 1885 when it began life as the Grand American Circus and Hippodrome.  The theatre was situated in the heart of Oldham's town centre, at the height of the cotton industry.  This made Oldham famous all over the world – it boasted the largest number of cotton spindles in the world and was producing eight billion yards of cloth a year at the industry's peak in 1912.   The theatre – known then as the Colosseum – was surrounded by almost a dozen other theatres entertaining the town's booming population.  In the 21st century, the award winning Coliseum is now the only surviving professional producing theatre in the town.
The Coliseum's stage has seen countless performers over the years from comedy greats Charlie Chaplin and Stan Laurel to movie stars such as Ralph Fiennes and Minnie Driver at the beginnings of their careers. Many early cast members of Manchester's most famous television export, and the world's longest running soap opera, Coronation Street, first broadcast in December 1960, were drawn from the Coliseum's repertory company.
Oldham Coliseum Theatre is one of the most established and well attended venues in the North West where it produces eight in-house shows each year. It is also a receiving house for touring productions, visiting companies and special one-night events.
Oldham Coliseum Theatre received a c£2 million facelift in 2012, with a much needed renovation to improve seating, heating and ventilation, and its front of house facilities so the venue could meet the expectations of contemporary theatre-goers and meet Health and Safety standards.
The Main Auditorium, with its three levels of Stalls, Circle and Upper Circle, has a capacity of 524 seats.  The theatre also has a Studio with a more intimate capacity of 50 seats. The inhouse and touring productions seen in the Main House each year offer a balanced programme of drama – from both established and new writers – to comedy and musicals, as well as the theatre's annual pantomime.
History:
Established in 1885, the Coliseum – then the Colosseum – began its life as a circus on Henshaw Street.
However, when Oldham Council demanded that site for use as a market – now Tommyfield market – its owner and builder, Thomas Whittaker, was forced to relocate two years later.   The entire wooden building was dismantled and moved plank by plank to its current site on Fairbottom Street.
After becoming an established location for entertainment, the building was bought by Peter Yates, of Yates' Wine Lodges' fame, in 1903. The venue was then transformed, and for the next 28 years, it became known as a popular music hall visited by the stars of the time.
Following a brief spell as a cinema in the early 1930s, the theatre closed and its furniture and fittings were sold off.
In 1938, the building was given a new lease of life when it was reopened as the Oldham Repertory Theatre under the direction of Douglas Emery. At this point the theatre had been stripped of the majority of its interior, including the floorboards, and as a result the auditorium actually had an earth floor.
Due to licensing issues at the time (the building was primarily made of wood and had no fire escapes), the venue could only operate as a private club with a strict rule that only members could attend to see plays.
The theatre soon developed a reputation for the quality of its shows and performances.  By the end of the 1950s the resident repertory actors' talents were so acclaimed that this led to many of them being lured away from the stage towards the glamorous television industry then in its infancy.
Because of their authentic Northern voices, many Oldham Rep actors, including Jean Alexander (Hilda Ogden) and Pat Phoenix (Elsie Tanner), became cast members for Coronation Street.  Other Oldham Rep cast members who became main characters in Coronation Street include: Barbara Knox (Rita Sullivan), Roy Barraclough (Alec Gilroy), William Roache (Ken Barlow), Anne Kirkbride (Deirdre Barlow).
The Oldham Repertory Theatre lasted until 1978 when it was reconstituted as the Oldham Coliseum Theatre. For over 70 years the Coliseum has been a home of producing theatre and has worked with many successful and innovative artists.
The Coliseum is now one of only 32 regular producing theatres in England, offering employment and a creative forum to actors, directors, designers, writers and technicians. It is also the only professional producing theatre in the historic cotton-mill town of Oldham.
Past performers include: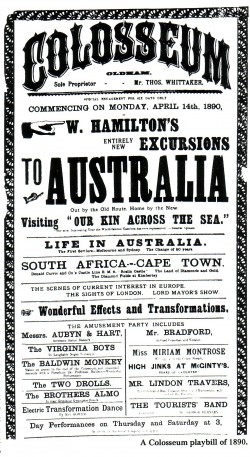 Judith Barker
Dora Bryan
Charlie Chaplin
Minnie Driver
Ralph Fiennes
Dame Thora Hird
Anne Kirkbride
Kathy Staff
Eric Sykes
Claire Sweeney
Kenneth Alan Taylor
Timeline:
1885 – Myers' New Grand American Circus and Hippodrome was built in Henshaw Street.
1887 – The wooden theatre is dismantled and moved to Fairbottom Street – it is advertised initially as  The Grand Circus and then re-branded as The Colosseum. it has an original capacity of 3,000.
1903 – The Colosseum is sold to Peter Yates of Yates' Wine Lodges' fame – it specialises in variety shows and music hall for the next 28 years.
1931 – The theatre is converted into a cinema, it closes nine months later and all furnishings, fittings, stage machinery and sets are sold off.
1938 – Oldham Repertory Theatre opens under the direction of Douglas Emery and after 12 months moves to the Coliseum, renovating the derelict theatre. During World War Two, the Coliseum hosts celebrated London companies Sadler's Wells Opera and the Old Vic.
1947 – Anthony Oakley, playing MacDuff, accidently stabs Harold Norman, playing Macbeth, in a production of The Scottish Play. Norman dies of his injuries on 27 February.
1959 – Carl Paulsen is appointed as Director of Productions, he remains with the Rep until his death in 1973, aged 47. His funeral is a major civic event in the town.
1968 – The theatre moves from weekly to two-weekly rep. with production of Suddenly Last Summer, featuring Pat Phoenix.
1978 – Oldham Rep is re-constituted as Oldham Coliseum Theatre and opens under the direction of Kenneth Alan Taylor with a production of The Revenge of the Werewolf.
1996 – Leading actress Siân Phillips stars as Marlene – in a musical of the same name – written by Pam Gems.   The show then transfers to London's West End and New York's Broadway.
2002 – Kevin Shaw takes over as Artistic Director.
February 2012 – The Coliseum closes for nine months to undergo major refurbishment costing c£2m.
October 2012 –  The newly renovated theatre reopens with The Importance of Being Earnest. 
December 2016 –  Through Oldham Council a grant of £7.1m from Arts Council England was confirmed as investment towards a new state-of-the-art theatre to be located on Oldham's Union Street.  The new location will place the Coliseum in the heart of the town's burgeoning cultural quarter besides Gallery Oldham, Oldham Library and a new Arts and Heritage Centre (due to open in 2019).
Oldham is to build a new Coliseum Theatre in its budding Cultural Quarter after the plans were awarded a multi-million pound funding injection.
A successful Round 2 joint funding bid by Oldham Council and Oldham Coliseum Theatre has seen Arts Council England approve a grant worth £7.1m towards the project.
Alongside a future fundraising contribution agreed with Oldham Coliseum Theatre, this now triggers the green light for it to move from its Fairbottom Street home to a new state-of-the-art facility including a 550-seat main auditorium and a 170-seat studio theatre with improved front-of-house facilities.
The new-build project will be a central part of Oldham's Cultural Quarter and will be located on the current Southgate Street car park site, with a frontage on Union Street.
This will connect the Coliseum Theatre with the other cultural jewels of a new Heritage and Arts Centre linked with Gallery Oldham, Library and Lifelong Learning centre.
All are sited at a prominent town centre gateway and just yards from the Oldham Central Metrolink stop.
The new theatre will be adjacent to the Grade-II listed Victorian library building, which is to house the Heritage and Arts Centre, showcasing the story of Oldham's past from its time as the cotton spinning capital of the world to the present day.
The plans are part of an approach approved in September 2015 which commits Oldham Council and its partners to a phased delivery over ten years of a four-stage Cultural Regeneration Programme*.
Jean Stretton, Oldham Council Leader, said: "We're delighted to be able to now get on with our plans to deliver a new Oldham Coliseum Theatre."
"The support and shared vision of Arts Council England has been vital in this and we're extremely grateful for this significant financial contribution which will help us to realise our ambitions for a fantastic Cultural Quarter.
"Arts, culture and heritage matter. They can inspire education across all ages and communities, boost the local economy, and attract tourism
"Oldham Coliseum Theatre is a hugely-respected institution in the borough, and beyond. It's a major cultural asset that also delivers lots of important educational work. This relocation will widen its profile and ensure it has a bright future as part of our wider regeneration plans.
"You can see with developments like the Old Town Hall and others that we are working to transform our town centre into one that gives our residents greater pride in better facilities and preserved heritage - and will also attract a new type of visitor with a great arts, culture and leisure offer."
Kevin Shaw, Oldham Coliseum Theatre's Artistic Director and Chief Executive, said: "We are immensely proud to be taking our place in Oldham's Cultural Quarter alongside the new Heritage and Arts Centre, as well as Gallery Oldham and Oldham Library."
"We are indebted to the vision of Oldham Council that places a real value on arts and culture for the borough, and for the support of Arts Council England in investing in that vision.
"The current board, staff, volunteers and audiences are all custodians of a proud tradition of theatre in the town, which in the Coliseum's case dates back to 1885. This is the second time in our history when we've moved location. Initially we were on Henshaw Street and then moved to Fairbottom Street in 1887 to make way for Tommyfield Market. It's our responsibility to make a theatre that's right for future generations, meaning in the years to come that theatre in Oldham continues to thrive, grow and develop.
"We are rightfully famous for the warmth of our welcome, and we will take that warmth with us, so future residents of Oldham will feel this is a theatre for absolutely everyone."
Alison Clark, Director North, Arts Council England said: "We are delighted to have made such a major investment in the future of cultural life in Oldham.
"Our capital programme is intended to ensure that artistic activity is embedded in the heart of infrastructural development and this is an great example of how a regeneration programme can demonstrate that the arts are critical to the growth of healthy communities."
The Coliseum scheme got initial planning permission in March 2015.
Mecanoo, the project architects, are committed to prioritising the local supply chain throughout this project.
In support of Oldham Council's 'Get Oldham Working' campaign, they are developing an employment and skills strategy to focus on young people within the borough, improving links with local education providers and exploring the opportunity to create apprenticeships.
Mecanoo are currently producing new designs in order to submit a new planning application by March 2017.
Construction work is anticipated to start in April 2018 with the venue set to open in 2020.
News archiveOldham Council news RSS feed